Regular price
Sale price
€49,99 EUR
Unit price
per
Sale
Sold out
Europe To America PSA BOOSTER VALUE Grading
Deine Boosterpacks werden für dich zu PSA zum Graden geschickt. 

Hinweis: Booster werden zum Booster Grading alle 2-3 Monate oder sobald mind. 20 Booster eingesendet worden, zum Booster Grading versendet. Die Abwicklungszeit beginnt erst wenn die Booster bei PSA eintreffen.

Das von dir eingesendete Boosterpack darf nach dem Graden einen maximalen Wert von 499$ nicht überschreiten.

Die geschätzte Abwicklungszeit, laut PSA, beträgt 90 Tage.
Dein eingesendetes Boosterpack kommt in dem beliebten und angesehnen PSA Hülle zurück. 
Preis gilt pro Booster
Geschätzte Lieferzeit beginnt ab Eingang bei PSA
Deine Einsendung muss bis 3 Tage vor Monatsende spätestens da sein, damit diese zur Submission des Monats versendet werden kann
step by step instruction
View full details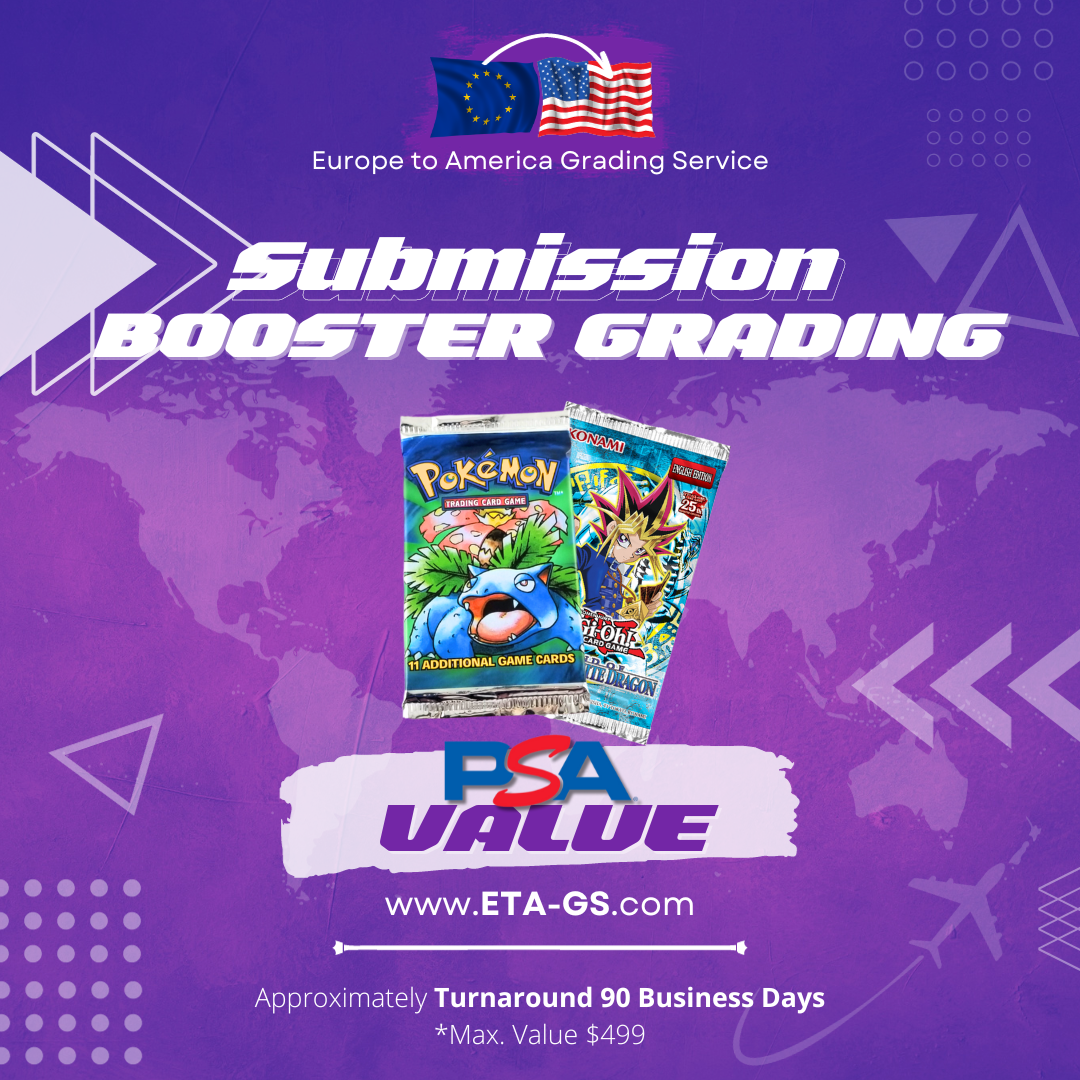 Step by step instruction at ETA
Select the service you want and add it to the shopping cart.
Go to checkout and enter your details. We will use the address you enter there as the return address for your cards. With your first order you can create your own ETA customer account directly, if you already have one, please log in before placing your order.
Leave the payment process with your desired payment method.
Complete your order.
After you have completed your order, you will receive a confirmation email in which you will see a link. Please click this link to open the card grade form.
Fill out the card grade form and enclose it with your shipment. Without this, we cannot guarantee that your Grade order will be processed quickly and without any problems.
It is very important that your card to be graded is in a sleeve + card saver. After all, your cards will be sent in the mail and must also be well packaged and protected. You are also welcome to use bubble wrap or newspaper in the packaging for your cards so that your cards do not slip or become damaged in the package.
Place the completed and printed card grade form in the package so that we can allocate your package to your order and process it easily.
Please send your package exclusively with DHL to the following address: ETA Grading Service GbR post number: 106 534 2944 Packstation 299 50997 Cologne Germany
As soon as your package arrives at the Packstation and has been picked up by us, we will open and document it with videos and photos. In this way we can guarantee that all packages have arrived undamaged (or damaged).
We also document the cards in the packages with video and photos so we can match your order to the card you sent. This is why the card grade form is important.
Transparency is very important to us! That's why we make sure that everything works and is processed smoothly. You can always see how far your submission has progressed on our website.
If you have any further questions, please write to us on Instagram or send us an email. We will be happy to take the time to answer your questions.
Some information for you
up charge

The up-charge takes into account the card value that the card will have after grading. PSA can then charge an up-charge, which means, for example, if you send in a card in bulk service but it exceeds the maximum value of the service, then PSA will charge us for the difference and there will be an additional payment.

We will pay in advance for you so that your card gets back to us safely. We will then invoice you for the difference.

Example: If you send a card, for example in the bulk service, with a maximum value after grading of USD 199, but it exceeds this value after grading, PSA can classify the card higher. The fees from the higher service must be paid.
Bearbeitungszeit

Leider können die angegebenen Bearbeitungszeiten durch folgende Faktoren stark verändert/beeinflusst werden:

Bearbeitung seitens PSA/BGS/CGC/WATA
Zollämter durch Hin- und Rückversand
Sonstiges

Wir geben unser bestes damit es schnell funktioniert, aber da sind leider manchmal auch uns die Hände gebunden. Wir hoffen hierbei auf euer Verständnis.
Shipment

Your package will be sent directly from you to us in Cologne.

After we have secured and processed your shipment, we prepare your cards for shipment to PSA.

It is important that your cards reach us 3 days before the end of each month so that we can document and prepare your cards. Then, 14 days later at the latest, all cards are sent to PSA

We love transparency! That's why you can see where your cards are currently on our site at any time.

At checkout you will only be charged for the return shipping to you for your cards after we have received them back from PSA.
Card Grade Form

The card grade form is particularly important for our documents and for securely documenting your cards.

You will receive the form on your e-mail address after your order. The easiest way is to fill it out digitally, print it out and simply enclose it with the package that you send to us.

Then nothing stands in the way of your degree.
Der ETA Bestellprozess - Video